Home Cooking
The Golden State is famous for its marvelous produce and fresh, healthy cuisine. It is easy to enjoy the bounty of California at Castle Vista. Local groceries offer great selection, while a 15-minute drive will take you to Merced Flea and Farmers Market for farm fresh goodness and bargains. Fully appointed kitchens make it a pleasure to prepare a delicious meal at home.
Grilling at the Pool
Imagine spending a late afternoon at the clubhouse pool, enjoying the end of a long, sunny day. Now, picture good friends joining you on the patio. Someone brings a big bowl of crisp greens, while another lays the first steaks on the community BBQ. The air fills with the sound of tinkling ice cubes and sparkling conversation. Just another fabulous evening at Castle Vista.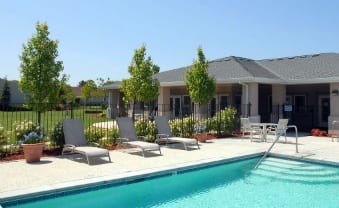 Dining in Town
Everyone enjoys a bite out now and again, and Atwater has something to please everyone. A sample of the local menus include:
Jantz Bakery and Cafe
Josie's Mexican & American Grill
Granny's Pantry
Brook's Ranch Restaurant
Hong Kong Chinese Restaurant
The Merced Flea and Farmers Market features food carts specializing in Asian and Latin cuisines.
Check out our calendar, and join us for an upcoming event. Take a tour to learn why our senior duplex community members are happy to call Castle Vista home.