Apply
Leisure Manor Affordable Senior Housing offers equal opportunity housing for any senior citizen aged 62 years and older who meets all HUD Application and Leisure Manor Resident Selection Criteria eligibility requirements. Your initial one year lease and monthly rent is based on 30% of your income, provided your income does not exceed the Maximum Income Limits stated in the table below as "Low."
HUD Published Income Limits for 2020.
Our Mandatory Meal Program (MMP) offers one, large, healthy and delicious meal per day and is an additional expense to your monthly rent cost.
For example, below is a sample "Rent and Meal Expenses" calculation for a Leisure Manor senior resident that meets eligibility criteria according to the  Resident Selection Criteria and the sample applicant's yearly income is $16,000.
Sample Monthly Rent and Meal Expenses Calculation.
The annual rental cost is 30% of the resident's full annual income amount. For example, if the resident's annual income is $16,000, the annual rental cost to the resident is $4,800. The monthly rental cost is calculated by taking the annual rental cost and dividing it by 12 months. In addition, the monthly cost for the Mandatory Meal Program (MMP) ($189) is added to $400 monthly rent for a total cost to the resident of $589 per month.
At Leisure Manor Affordable Senior Community, we are also pleased to offer specialized housing programs to seniors age 62 and over, who meet the requirements defined in the Leisure Manor Resident Selection Criteria. However, these specialized opportunities for seniors are based on a small and limited availability.
Application
Forms
Below is the list of application forms and informational statements concerning tenancy requirements and regulations at Leisure Manor Affordable Senior Housing Community: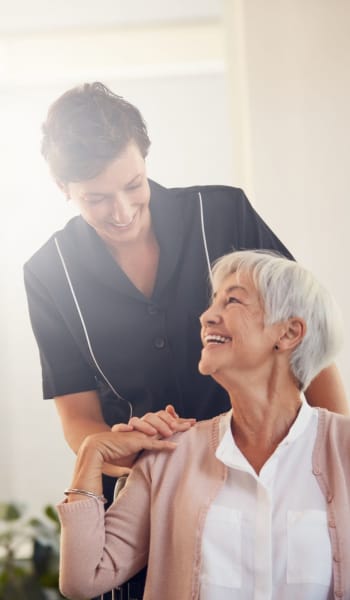 How do I Apply for Housing at Leisure Manor Senior Retirement Community?
Eligibility to live at Leisure Manor requires that applicants meet income and occupancy standards as defined by the Department of Housing and Urban Development (HUD) and other established rental criteria. Our friendly staff can assist you in determining your eligibility and help you through the application process.
Please take a look at the Application Procedure Form for a complete timeline of the tenant application and screening process we follow at Leisure Manor Senior Housing Community. We have provided all of the materials you will need to fill out an application on the forms tab (above) on the dropdown menu. Once you have successfully downloaded these materials and realize that you may require some assistance with the application, please call the Leisure Manor office.
The staff at Leisure Manor is also here to help you request any missing documentation that is required to complete the application in full. Once the application is complete and our specialists have all the information required, we will run the eligibility and verification reports necessary for approval. Once these reports are authorized and signed off, your apartment and move-in date will be determined.
Leisure Manor does not discriminate based upon race, color, familial status, religion, sex, handicap or national origin. We support equal opportunity to housing and employment.
If you have any questions about the application or application process, someone from our helpful staff will be happy to assist you during office business hours.