Homestyle Recipes,
Chef Prepared
Healthy, appetizing food is essential to feeling your best. Our culinary-trained chefs use locally sourced ingredients to make delicious meals every day. It is home cooking at its finest, with menus created from family recipes, using sustainable and farm fresh products. Atmosphere plays an important role in a good meal, as well. Residents can dine al fresco on the patio, in the social dining room, or enjoy a tempting dessert on the scenic third floor terrace.
The Staff and residents welcome you to join and experience a delicious chef prepared meal at Campus Commons Senior Living.
View our sample menu.

Private Dining
While dining among friends and neighbors can be lively and fun, sometimes a simple lunch or dinner at home is just the thing. Our one and two bedroom apartments each feature a fully appointed kitchen, so a quiet meal at home is always an option.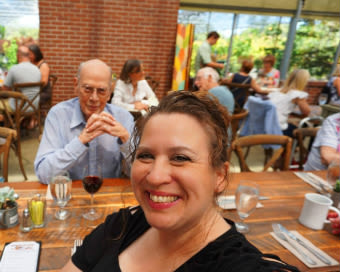 On the Town
Sacramento offers A to Z dining, from classic corn beef hash, to a variety of international cuisine. Tuck into a steaming cup of French onion soup at Danielle's Creperie after a trip to Loehmanns Plaza or enjoy brunch at Mimi's Cafe after a trip to Arden Fair Mall, or experience something new at Piatti Italian Restaurant in the Pavilions Shopping Center. Whatever you are hankering for, you will find it close to home.
Join us for an upcoming event, and learn more about out commitment to delicious, healthy dining options at Campus Commons Senior Living.
Meet the Chef
Chef Richard has been with Sodexo at Winding Commons for six years. He has been in the hospitality industry for over 40 years, working for companies such as Hilton Corporation and in the casino industry where he was an Executive Chef and Food and Beverage Director. He was an instructor at Truckee Meadows Community College in Reno, Nevada, for two years teaching the culinary industry. He and his wife of 26 years have two grown children.
It is with great joy that Chef Richard brings all of his culinary talents to Campus Commons. Richard takes great pride in his daily responsibility of creating variety and serving pleasing meals to the residents of Campus Commons. Chef Richard's fun loving true spirit always shines through when creating masterpieces for the special events.