Get the Most from Your Day
Activities and events at Roseville Commons are designed to strengthen the body and the mind, lift the spirit, and expand the horizons of our senior living community members. Classes and seminars offer a chance to create, to learn, and to enjoy the company of friends and neighbors. Plus, we have plenty of fun. Our calendar lists:
Small Group Fitness
Arts & Crafts
Educational Talks
Regional and Local Outings
Dancing
Live Entertainment
Happy Hour
Games
Book Club
Happy hour is a chance to listen, sing along to live music, and engage in some conversation over an appetizer or two. The Rose Room hosts big band sounds, Mardi Gras, and the occasional luau, among other celebrations. The variety never ends with car shows, slot cars and horse races, there is something for everyone!

Off Campus Activities
Group outings are an enjoyable way to explore the region with friends. Take in the scenery as we manage the driving, navigating, and parking. Thunder Valley Casino in Lincoln is just one of many destinations for fun and a bit of adventure.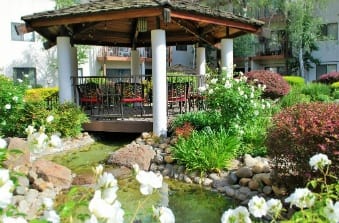 The Choice Is Yours
While there may be no lack of scheduled events at Roseville Commons, the day is always yours to do with as you wish. There is plenty of comfortable outdoor seating, and quiet nooks for reading, an impromptu card game, or some quiet reflection. Be as busy or as relaxed as you like. Contact us or consult the calendar to find out what fresh events we have lined up. Come experience the rich possibilities of senior living at Roseville Commons.